Chief Meteorologist Dr. Todd Crawford says, "The past six summers have been the hottest six-year stretch i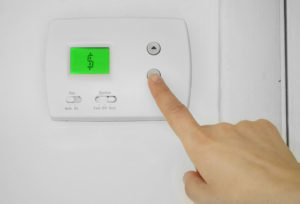 n the last 120 years."
And then there's Texas. We set the bar for summer heat; the high temperatures here can be life-threatening. How can you save on cooling costs when you're running your AC 24/7?
Lower Your Energy Costs: Chill Out
The U.S. Department of Energy offers several tips to save on cooling costs this year:
Clean air registers – When air is distributed evenly, your AC works more efficiently. Clear furniture and other debris from the air register area and wash the air registers often or as needed.
Close the curtains – It's an old-time southern theory, and it still works. A darkened room projects the illusion of coolness. The reality is, closed draperies help block the sun's heat.
Install a programmable thermostat – With the technology now available, you can program your thermostat to raise the air temperature after you leave the house for the day, then lower it to a comfortable cooling level just before you return home. When you're away from home for a vacation, raise the thermostat's setpoint before you leave.
Invest in energy-efficient products – Ask your HVAC professional how much you will save on cooling costs if you upgrade your air conditioning equipment. If you're remodeling or building new, install energy-efficient appliances.
Replace filters monthly – Not only does frequent air filter cleaning/replacement improve the quality of your indoor air and help your AC run more efficiently, but it can also lessen the risk of dirt and airborne pollutants damaging your blower motor.
Turn off exhaust fans – Don't let your exhaust fans run unattended. Turn off kitchen and bathroom fans within 20 minutes following use. Also ask your HVAC professional about high-efficiency, low-noise exhaust fans for your home or commercial property.
Call 281-651-5484, 936-271-2030 or contact Bradbury Brothers Heating & Air Conditioning for more information about how to save on cooling costs. And have an enjoyable and safe summer this year!
Wherever you go, no matter what the weather,
always bring your own sunshine. -Anthony D'Angelo