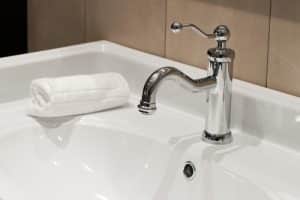 Cleaning plumbing fixtures is something we've all done at one time or another. Most of us clean or have them scrubbed at least once a week. Plumbing fixtures include:
Drain opening attachments
Faucets, faucet handles
Showers, shower heads
Sinks
Spigots
Toilets
What You Can't See Might Hurt You
You know that kitchen and bathroom sinks can harbor bacteria that is harmful to you and your family, but some microbial growth can cause sink and fixture damage, staining, and odors. Hot water provides just the right environment to house bacteria! "Given the right conditions, it takes as little as twenty minutes for the microbes to double their numbers on the surface of your kitchen and bathroom faucets," says Microban®. And the kitchen – not the bathroom – is the most bacteria-laden site.
Sink, Shower Fixtures
Sink faucets are the most difficult to clean because of the wide assortment of styles and metals used. Your first step is to know the finish of your faucet. For oil-rubbed bronze, changeable, and brass finishes, use only water and dry. There are waxes and polishes available for these faucets, too.
For any build-up on chrome/steel faucets, handles, shower heads, etc. use white vinegar. Never use abrasive cleaners, ammonia-based products, harsh chemicals or bleach. When cleaning plumbing fixtures, baking soda and water, applied with a toothbrush around the base, can gently remove soap scum and other gunk.
Sinks and Tubs
Ceramic and porcelain sinks, tubs, and shower units should be cleaned with vinegar and water or baking soda and water. Bleach can damage their finishes. For acrylic or fiberglass finishes, apply liquid dish detergent and water with a soft cloth.
Toilets
Mix a vinegar/water solution and spray the exterior of the toilet then wipe clean. For the toilet seat, mild soap and water works. To sanitize the toilet bowl, use a commercial antibacterial toilet cleaner or ¼ cup bleach to 1 gallon of water.
Anti-microbial faucets are now available from several U.S. suppliers; just let us know if you'd like more information. Call 281.61.4283, 936.756.5472 or contact us with any questions.