An air conditioner that isn't fully functional during hot summer weather can be a homeowner's worst nightmare. Before calling your trusted HVAC technician for service, there are several air conditioner troubleshooting steps homeowners can take.

Is the System Running Inefficiently?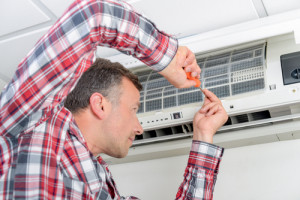 Adequate airflow is key to the performance of your HVAC system. If your system is running constantly, there may be an airflow problem. To troubleshoot, investigate the following:
Dust and debris can accumulate in and around the outdoor unit. When the condenser's air intake is blocked, it's unable to work efficiently and  it can't pull in adequate air. This condition can cause overheating, which can damage the unit. To address this issue, clear leaves, yard waste and other items from around the unit to restore airflow.
Conditioned air is moved throughout your home using the ductwork and vents. Dirty or blocked vents decrease airflow and can compromise the system. Additionally, dirty vents allow dust and debris to move throughout the home, which can decrease indoor air quality and cause breathing problems. Use a clean cloth to wipe out dirty and clogged vents.
Facing Temperature Control Issues?
If the temperature seems to always need adjusting, check the thermostat's heat anticipator. The system can be adjusted so it cycles on before the temperature exceeds your desired temperature. Many systems don't cycle on until the temperature exceeds your level of comfort.
Is Pooling Water Present?
Pooling water around the air conditioning unit is indicative of a problem. To determine if the condensate pump is working, pour water directly into the pan. If the system doesn't turn on, check the power source. If the unit has power, contact your HVAC professional for a repair visit.
For additional information on air conditioner troubleshooting, contact the experts at Bradbury Brothers Heating & Air Conditioning. Our team of HVAC experts provide service to homeowners in and around Conroe, Magnolia, Montgomery, Oak Ridge North, Pinehurst, Shenandoah, Spring, Tomball and surrounding areas.
Image via Shutterstock.com