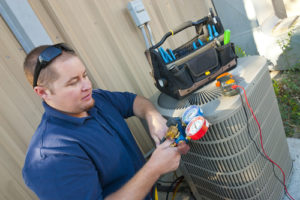 An HVAC system is a long-lasting piece of equipment, and chances are the one you have will easily last you 8 to 12 years. But sometimes the issue of HVAC system repair or replacement comes up before the end of the equipment's lifespan, and you're faced with a dilemma. Answering these questions will help you determine whether to repair or replace.
1. How old is your HVAC system?
Is your furnace 15 years old? Is your air conditioner at least 10 years old? If you answer yes to either question, perhaps you should consider replacement. In our climate, air conditioners see a lot of use, so it may be you'll need to replace the A/C before the furnace. If that happens, you'd be wise to replace cooling and heating (which likely share the air handler in your current system) at the same time so that you'll get peak efficiency from each.
2. Does your HVAC need frequent repairs?
If your HVAC system breaks down continuously, it may be costing you more than it's worth to keep fixing it. Just like a car, your HVAC system is something you need to be able to rely on not breaking down when the weather is at its worst. There's also the issue of finding parts for your equipment the older it is.
3. Are your energy bills sky high?
Maybe your HVAC system was never all that efficient when it was installed. Or maybe through the years, wear and tear have taken a toll, and it seems to work harder to do a less than adequate job. Or maybe it was sized wrong in the first place — too small, and it will run all the time, too large, and it will short cycle, cooling and heating inefficiently. Some homeowners report reductions of as much as 30 percent on their utility bills when they replace old equipment with new, more efficient technology.
Discuss your questions about HVAC system repair or replacement and contact Bradbury Brothers Heating and Air Conditioning of The Woodlands. We also serve Spring, Conroe, Shenandoah and the surrounding area.