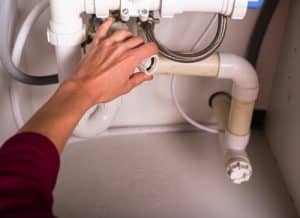 Smart property owners schedule routine plumbing inspections for preventive maintenance because it makes sense to protect your investment and prolong the life of your plumbing appliances. Unfortunately, many people only seek plumbing repair for an emergency.
Even the popular Dummies book, a terrific D-I-Y (do-it-yourself) guide says, "Hire a plumber when the problem is extensive and requires expertise to pin down, and when there's a higher risk of doing more damage than good."
Plumbing Repair: When to Make the Call
It doesn't take a NASA scientist to know there's a problem when water is gushing from a pipe or flooding a floor. But some plumbing problems are more subtle. You need to call a plumbing repair professional if:
There's no hot water – Not an easy task during a sweltering Texas summer, when even the cold water runs hot for several seconds! If you have determined you have no hot water, there's probably a water heater problem, but you may not be able to see it. It could be a bad heating element, damaged thermostat, failed thermocouple burner, or other complications.
Low water pressure – It can be one faucet or several, but when tap water runs slow or irregularly, there's most likely a water line obstruction. Whether you're on city water or well water, only a professional plumber can analyze a supply line problem.
Sewer line is stopped-up – When your "plumber's helper" (plunger) doesn't help, don't rent one of those machines that could damage your sewer! Tree roots are often the culprit.
Frozen pipes – It happens here in Texas because many homeowners assume it won't happen here, so they don't winterize or wrap their pipes for cold weather. If a hairdryer won't solve the problem, the pipe may have already cracked or burst.
Bradbury Brothers Services is the plumbing repair and maintenance company for Conroe, Magnolia, Montgomery, Oak Ridge North, Shenandoah, Spring, The Woodlands, Tomball and surrounding southeast Texas communities. If you're building new or renovating this year, a walk-through and estimates are free. Call 281.661.4283 or contact us for more information.