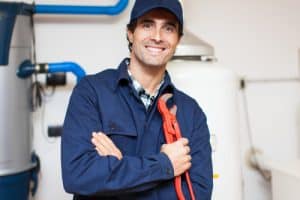 It's easy enough to see (or hear) a problem with your plumbing. The leaky spigot, the gurgly noise your toilet makes, and the clogged kitchen sink disposal are dead giveaways that there's something amiss. That's when you decide whether or not to tackle the fix yourself, call your Uncle Fred, or contact area plumbing contractors, who claim to offer "complete" plumbing services.
Full-service plumbing contractors are the companies which are reputable, licensed, bonded, trusted, and – in our area of the country – employ educated plumbing professionals who understand the distinctive needs and challenges Texas homeowners face when building, renovating, and maintaining their property. Your home is most likely your greatest asset, and it only makes sense to protect your investment.
Just as you have a primary care physician, a particular pet groomer, or an ace mechanic, your plumbing contractor provides necessary services. You need a full-service plumbing contractor who will provide the best possible repair and maintenance solutions for your home. You also need the kind of company that stays on top of ways to save money and sustain our environment while lowering your energy costs.
In Texas, we boast about how we like everything "big," and that's the main reason why you should take advantage of complete plumbing services. It's the only way to see your property plumbing's "big picture."
With Bradbury Brothers Services, our plumbing professionals live in Conroe, Magnolia, Montgomery, Oak Ridge North, Shenandoah, Spring, The Woodlands, Tomball and surrounding communities, so it's important to us to protect our neighbors and their investments. Call 281.661.4283 or contact us with any questions. Follow us on Facebook, too!