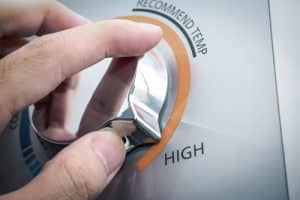 Most hot water appliances generate heat. Standard water heaters create heat. Hybrid HPWH (heat pump water heaters) use electricity to move heat from one place to another. When hot water demand is the greatest, hybrid water heaters automatically switch to standard electric resistance heat.
Pros of Hybrid Hot Water Heaters
HPWHs have control panels that allow you to select different operating modes:
Auto – The default setting is for daily use, providing energy-efficiency with sustained heat
Efficiency – Maximizes energy efficiency and reduces costs by using the heat pump alone
Electric/Heater – This is the high-demand setting, using the electric element alone
Sleep – Save on energy costs when away from home
There are many water heaters available that will reduce energy consumption and save money . . . eventually. Their upfront costs and installation extras are prohibitive for many families, and the energy costs savings will take several years to pay off.
The biggest advantage to a hybrid water heater is that it will install in the same space your standard water heater is located, and you'll immediately reduce heating expenses up to 62%.
Cons of Hybrid Hot Water Heaters
An HPWH water heater has about a 10-year lifespan, which is average, but not as good as tankless and solar hot water heaters (20 years) and a bit less than standard storage hot water heaters (10-15 years).
You can only install a hybrid water heater in areas that remain 40°-90°F year-round; perfect for Texas but bad for our northern neighbors. It will also increase the workload during periods when you need room heating. Hybrid hot water heaters require at least 1,000 cubic feet of space surrounding it to operate safely and efficiently.
How You Live is Your Legacy
If it's time to replace your water heater, we're offering $100 off your September 2017 purchase! If you'd like to learn more about water heater upgrades that can lower costs and lessen your carbon footprint, contact Bradbury Brothers Services.
Where the quality of life goes down for the environment,
the quality of life goes down for humans.
-George Holland