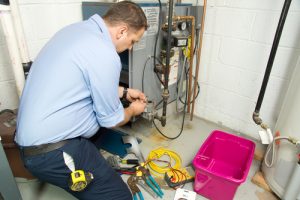 The reason you need to partner with a local HVAC (heating, ventilation, air conditioning) contractor is simple: The appliances and the systems associated with HVAC are complicated and expensive to repair or replace. It's important your Northeast Houston HVAC contractor be someone you can trust; someone who will honestly tell you what you should have – and what you can get by with until you can afford an upgrade.
How to Decide: Replace or Repair?
We recommend plumbing and HVAC solutions to homeowners and commercial property owners based on their unique situations. If it's dangerous or more cost-effective to replace than repair, that may be our advice. If a good repair and annual maintenance will buy you a few more years, let's go that route. Whatever your situation, we care about what's best and safest for you.
Hints to Help You Choose
Here are some basic guidelines that can help us – and you – choose the right HVAC replacement or repair option.
Age – How old is the unit? If it's older than 15 years, you might be looking at frequent short-term repairs vs. years of problem-free service with a new unit. If it's unde3r 10 years, repair may be the best choice.
High Energy Bills – The Seasonal Energy Efficiency Ratio (SEER) rating on your HVAC system can tell you the break-even point at which a new system would be affordable.
Money – If you purchase a new HVAC system, will you be able to find affordable financing?
SEER – HVAC efficiency saves more than you think!
Warranty – If the HVAC unit or part is still under warranty, repair or replace, whichever is your cheapest option.
Consider Maintenance for Valuable Savings
Bradbury Brothers Cooling, Heating & Plumbing has served Houston-area communities since 2010. We are proud of our family-owned and operated company and also take pride in being the HVAC contractor for
Conroe
Magnolia
Montgomery
Oak Ridge North
Shenandoah
Spring
The Woodlands
Tomball
…and nearby neighborhoods
If you have an emergency, call 281.651.5484 or 936.271.2030. Our first responders are available 24/7 to restore safety as quickly as possible