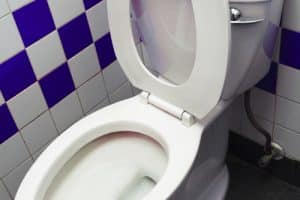 Hard water can be a problem in Texas, and if you don't know how to stay on top of it, you'll have plumbing problems that might even lead to replacing your toilet. In Conroe, for example, calcium and magnesium are naturally occurring drinking water minerals and can be present in enough quantity that the drinking water is "hard." Hard water can build-up in your toilet tank and damage the fixture.
Keeping Your Toilet Stain- and Mineral Deposit-Free
The best way to avoid hard water stains and mineral deposits is to control them before they are a problem. Some toilet cleaners have bleach, which can actually make hard water stains worse. Here are four tips that can help with hard water in your toilet tank:
Lower your temperature – Simply reducing the temperature of your water heater will help lower the build-up of scale and mineral deposits.
Soap additives – There are products on the market to help dishwashing detergent clean better in hard water. There are also additives for kitchen and bathroom fixtures. For cleaning soap scum build-up, try 1 cup of apple cider vinegar with 3 cups of soft water.
Vinegar – Distilled white vinegar is the magic elixir recommended by everyone! HowStuffWorks.com says you can even let all the water out of the toilet, spray the interior with full-strength vinegar and leave overnight. Use a very fine sandpaper to remove the deposits left in the tank. "Regular toilet brushing with vinegar and baking soda . . . . can keep minerals moving and loose rather than causing stains," says the website. Some people regularly add vinegar to the tank water.
Water softener – There are several water filtering and softener systems available that will help with the mineral deposits and hard water damage you can't see; inside your pipes and water heater, for example. Once high-priced appliances, water softeners are reasonably affordable and good investment.
We Can Help
Your plumbing professionals at Bradbury Brothers Services can help if you have hard water problems. Call 281.661.4283 or contact us; with up-front pricing, there are no surprises!