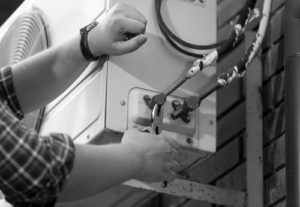 Putting a maintenance plan into effect is an important part of keeping your HVAC system problem-free and operating at maximum efficiency. In addition to tips for heating and cooling maintenance, you need regular professional inspection to ensure your systems' optimal performance. This saves money, energy, and more importantly – time – on future repairs. What type of preventive maintenance do you need?
Put It in Writing
A maintenance plan is sometimes called a service agreement, and a contract is necessary between you and your HVAC professional. You agree to a set fee for HVAC continuing care and maintenance services.
Each HVAC company may have its own names for their service agreements, but the fundamental goal is the same: You (the consumer) and the HVAC company agree that routine maintenance is required to keep your equipment performing at maximum efficiency and to avoid inconvenient emergencies.
Maintenance Plan Basics
A basic maintenance plan should include:
Adjust airflow dampers
Air filter replacement or cleaning
Assess heat exchanger
Check all safety detectors
Check motors' voltage/amperage
Check start-up performance
Electrical connections check
Inspect condensate drain and condenser coil
Inspect ductwork
Inspect flue
Mechanical parts lubrication
Take AC refrigerant readings
Thermostat check
Verify heating system's burner operation
Evaluate performance and make future recommendations
Join the Club
Here in The Woodlands area of southeast Texas, Bradbury Brothers Heating & Air Conditioning is the go-to for Conroe, Magnolia, Montgomery, Oak Ridge North, Shenandoah, Spring, Tomball and nearby neighborhoods, and we offer one plan for your AC and heating system. We call it the Platinum Club tune-up plan, and because we are Texans, our maintenance plan is better and bigger.
All Platinum Club members receive maintenance services plus priority service and:
Extended repair warranties (180 days instead of 30) for all parts and workmanship
50% off diagnostic repair fee
20% off AC or heating parts or labor
50% of your membership fee is accrued toward the purchase of a new heating/air unit when it's time to replace
Transferable plan to home's next owners
Bradbury Brothers Heating & Air Conditioning
Your investment in your home and property deserves the best HVAC maintenance available. Call 281-651-5484, 936-271-2030 or contact us to discuss membership in the Platinum Club. We're a family owned and operated business, so we want our clients and their future generations to depend on Bradbury Brothers Heating & Air Conditioning. We want customers for life.