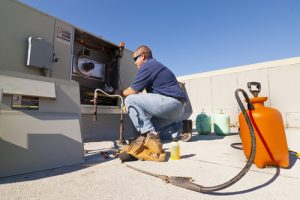 Your neighbor's Uncle Bud is a real nice guy "who can fix anything." When you need HVAC (heating, ventilation, air conditioning) maintenance or repair, nicely decline your neighbor's offer to call Uncle Bud.
Air Conditioning Maintenance and Repairs
Today's HVAC units have technology that requires professional A/C repair and maintenance. Ask questions to ensure your HVAC professional has been properly trained and is experienced. Your HVAC technician should also have a license to maintain and repair HVAC systems as well as proper insurance to cover accidental damages.
Why You Need Professional A/C Maintenance
How old is your HVAC unit? Even the best systems seldom last beyond 10-15 years. With regular, professional A/C maintenance, you can get a few more years of life out of your older HVAC unit. It's a fact: Bradbury Brothers' Tune-Ups save money on energy and repair/replacement costs!
Expert advice is free. The guy who makes his living selling new heating and cooling units may tell you it's time to replace your HVAC system. Even if it isn't. Professional A/C maintenance technicians are in business for several reasons. Yes, we'd like to earn a living, and that means we will be here when you really do need a new HVAC unit. We will freely tell you DIY (do-it-yourself) ways to save money and prolong your HVAC system's lifespan. We will certainly tell you if your air quality is compromised. Bradbury Brothers' Heating and Cooling dependability, knowledge, and honesty are what keep us in business.
Obviously, professional A/C maintenance requires some education and hands-on experience. But our HVAC professionals seek ongoing, annual training every year. We need to stay up-to-date on ever-evolving technology, so Bradbury Brothers' HVAC professionals never stop learning.
When you need professional advice or HVAC maintenance, we are your local HVAC professionals for Northeast Houston communities. At your HVAC tune-up, Bradbury Brothers Heating and Cooling will answer all your questions about A/C readiness for Summer 2018. Call 281-651-5484 or contact us to initiate your 2018 maintenance program.